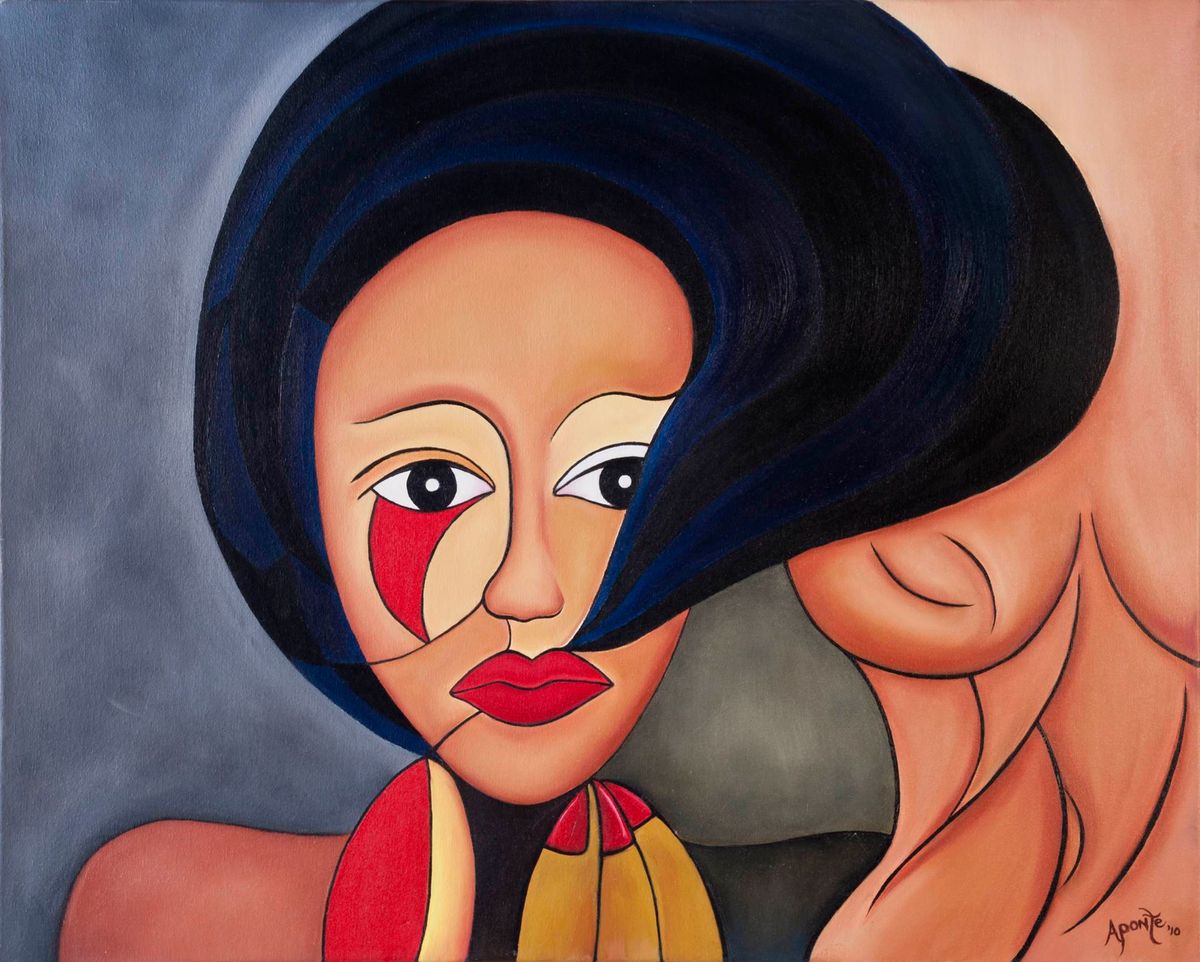 Featured Artist: Janice Aponte
It is "Circus Blu."
Circus Blu, the story of a woman in a spiritual journey. In your darkest moments sometimes all it takes is a prayer to get you through your next chapter in life. This painting captures the essence of a woman transitioning, growing into her next phase. It is an integral part of my overall work.
I'm a native Puerto Rican born in Ponce and raised in New York City. I returned to Puerto Rico in my teens, obtained my college degree in Business, and shortly after traveled to Chicago in search for a brighter future. I currently reside in the Northwest side of Chicago.
My Artistic Journey:
As a child, I "loved" Art. I instinctively sketched, drew and enjoyed it with passion. I excelled at it, and it made me feel good about myself. Later, having a career and a family preoccupied most of my time; the arts remained dormant until I reached my early thirties. I had gone through a divorce and it helped me cope with a difficult situation. I started exploring my creativity more deeply in order to fill a void and soon realized this journey led me to exactly where I was meant to be. I transitioned from pencil drawing to painting, a very natural transition for me. I took art workshops, worked with other artists and discovered a new world that I now can never leave.
I experiment with pencils, charcoals, pastels, acrylics, and mixed media but prefer oils. I am very detail oriented by nature and this medium allows me to express myself with few limitations. My style and subjects vary according to where I find myself in my life-journey. Painting takes me to a place where I am unveiled, my soul stripped from all the worldly elements and the warmth of my blood flows and carries the movement of my brush...it's a dance, the colors are my music, at late hours in the night...when everyone is dreaming, my brush dances over my canvas and I am dreaming too.
COMMENTS
There is something about the colors and shapes in "Circus Blu" that caught my attention immediately. The image is abstract and at the same time personable, with something vulnerable about it. I was looking at work in all of the booths at the Glenwood Arts Festival, which has become my habit. I wait to see what captures my attention and buy art each year. I have a limited budget, but that year I broke the bank. "Circus Blu" greets me every morning in my front room.
- Kirk Shellko December, 2014